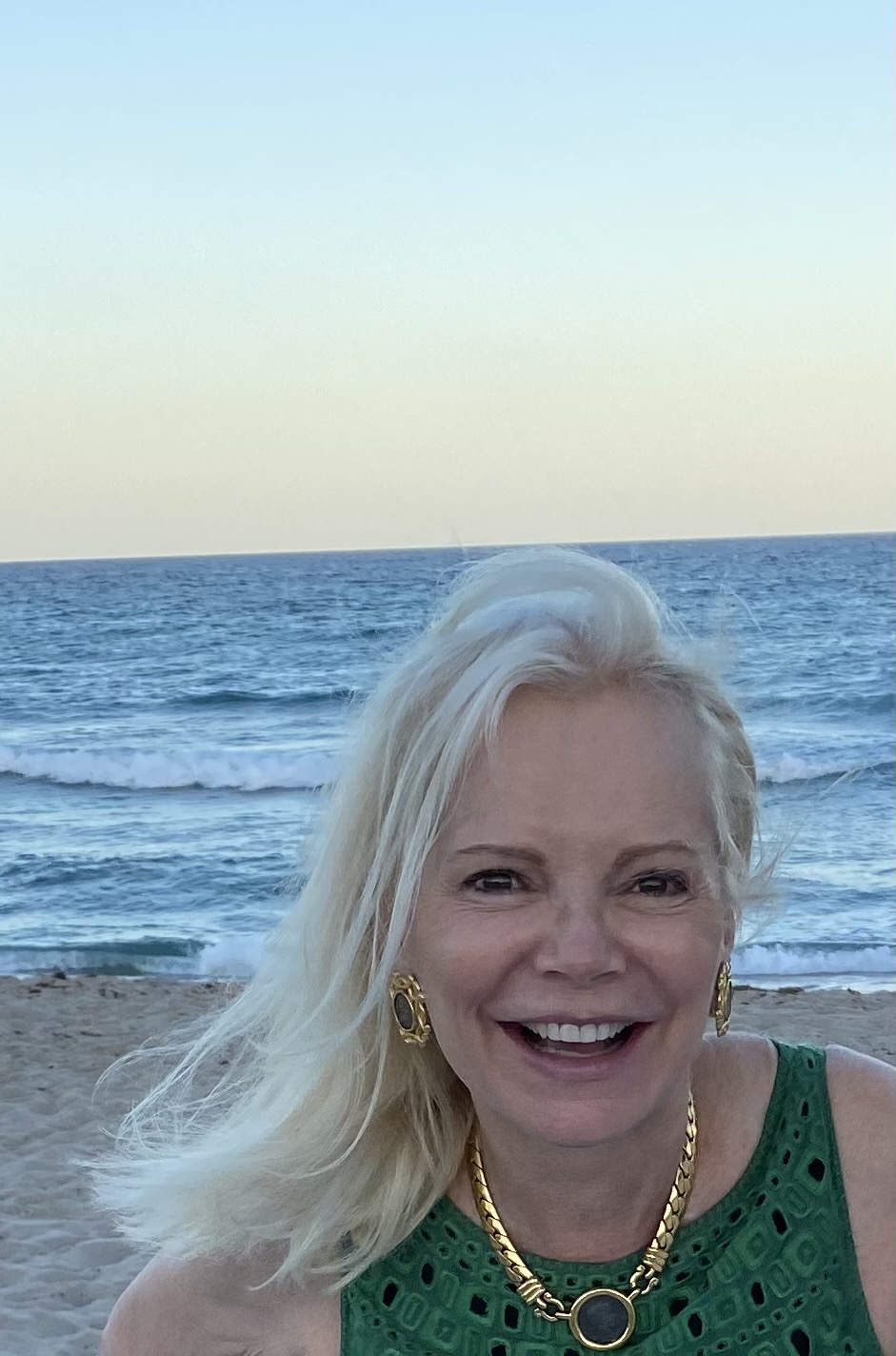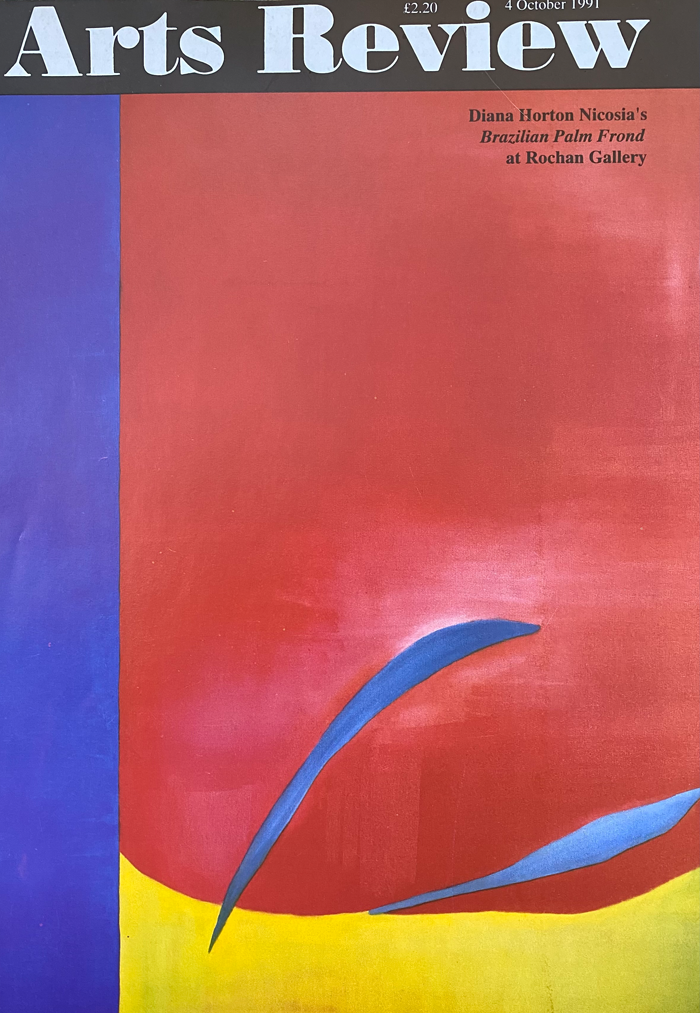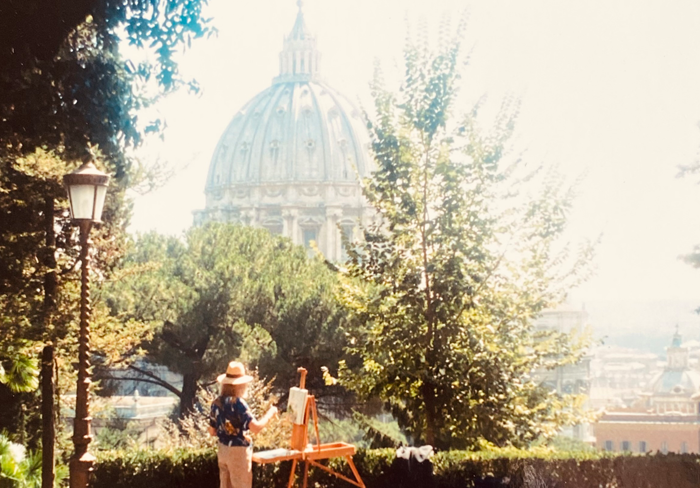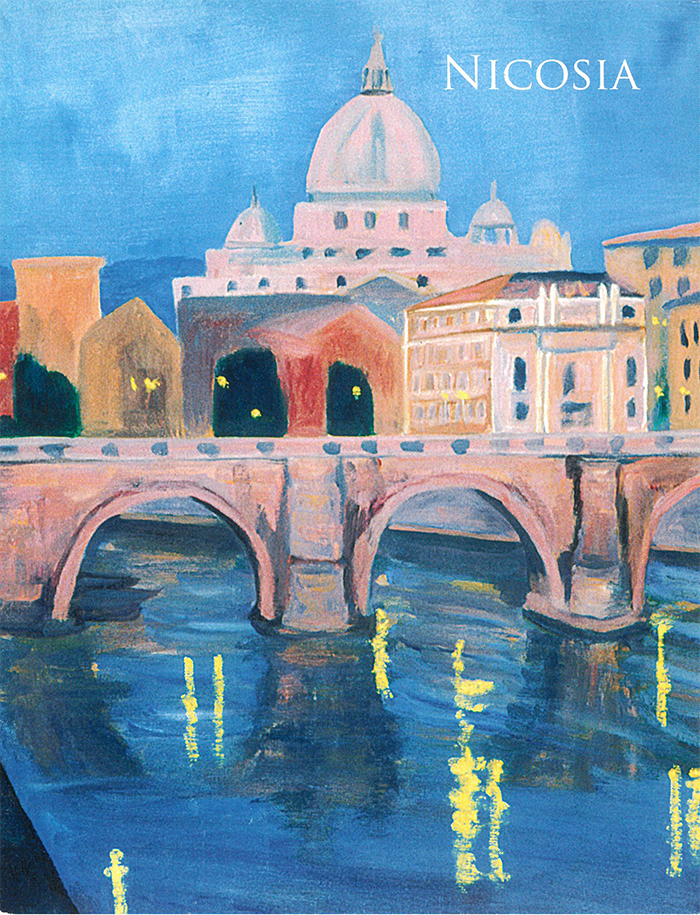 Diana Nicosia, an American artist, spent her formative years in Boston where she attended Mass College of Art (merit scholarship), Colby Sawyer College and Wheaton College.   Upon completion of advanced work in a private atelier comprising the Boston School of Realism,  Ms. Nicosia moved to Capri and then to Costa d'Argento, the silver coast of Tuscany.  She currently resides in Boston and Florida with frequent visits to Italy.
Nicosia's art is the journey of a lifetime.  She immerses herself in other cultures, soaking in the tempo, tapping into the purpose.  The result is a collection, a series of paintings that is fundamentally course changing.  Remarkable.  Refined.
She has been honored with rare invitations to paint private grounds that few artists ever see. The Trustees of Versailles requested that she paint at Claude Monet's Giverny and the government of Kuwait invited Nicosia to paint and exhibit her series "Tides of War:  The Oil Fires of Kuwait".  She exhibited at The Gainsborough House in England and, at the behest of the Vatican, painted the private Papal Gardens. The family of Sir Winston Churchill invited her to paint on the grounds of Chartwell, Sir Winston Churchill's beloved country estate overlooking the Weald of Kent.
Ms. Nicosia is the first artist to receive the Italian government's Terzo Mellenio Award in recognition of her "Vatican Images" exhibition.  She was invited to paint "the passionate drama of the evolving status of the jungle by the Brazilian Ambassador to London, Paulo Tarso Flecha de Lima and by the Smithsonian Institution.  She then put paint to canvas and captured the eco-drama years before melting polar caps were on our collective consciousness.  The result was her acclaimed series depicting the violence and destruction against the Brazilian Rainforest which was exhibited in Sao Paulo, London, Washington, D.C., and New York.  She was recognized as an environmentalist and invited to become a trustee of the Foundation of Ethnobiology, Oxford College, England.
A recent collection, encaustic paintings or "fragments," inspired by ancient Roman frescoes, are reminiscent of the ancient frescoes of an imaginary paradise garden were in the home of Livia Drusilla, the wife of Emperor Augustus, the first emperor of Rome.  Nicosia's modern frescoes can be gold, pin, red or blue but the unnatural texture provides the subject of the painting with an icon-like backdrop, evoking an aloof and timeless atmosphere.
Diana Nicosia is again focused on the environment:  Venice and the lagoon, a World Heritage Site, and the Italian Maremma —  the land of the mysterious Etruscans.  The Maremma Memories series is inspired by the brilliant light of the Costa d'Argento – this body of work was compared to the De Stijl movement by Arts Review Magazine.
MUSEUM COLLECTION
Museum of Modern Art, New York, NY
Casa Italiana Zerilli-Marimò, New York, NY
Museu de Arte de Sao Paulo, Sao Paulo, Brazil
Intrepid SEA • AIR • SPACE Museum, New York, NY
PROFESSIONAL HONORS
Invited by Sir Winston Churchill's family to paint at Chartwell, England
Invited by the Vatican to paint the private Papal Gardens
Invited by the Government of Kuwait to paint "Tides of War: The Oil Fires of Kuwait"
First Artist to receive the Terzo Millennio award from the Italian Consulate in New York City
Trustee of The Foundation for Ethnobiology, Oxford College, England
Invited by Brazilian government to photograph and paint the rainforest at the Smithsonian Institution's project in the Amazon
Invited by Trustees of Versailles to paint at Claude Monet's Giverny, France
Appeared on "Today Show" featuring painting donated to the Massachusetts Society for the Prevention of Cruelty to Children
SELECTED SOLO EXHIBITIONS
M Fine Art Galerie, Palm Beach, FL., 20018, 2019
St. Botolph Club, Boston, 2015
 Janis Aldridge Inc., Nantucket, 2013
Cornell Museum of Art, Delray Beach, FL. 2012 (twelve week retrospective show)
DCOTA, Dania FL, 2012
New River Fine Art, Fort Lauderdale, FL, 2011
Ritz-Carlton Hotel, Palm Beach, FL.  2011
The Phillips Point Club by the Breakers, Palm Beach, FL  2010
David Findlay Gallery, New York, NY, 2009
Philips Galleries, Palm Beach, FL 2008
The Vault Gallery, Boston Private Bank & Trust Company, 2007, Boston, MA
Beyond Decor Fine Arts Gallery, Palm Beach, FL 2007
The Ritz – Carlton Hotel, 2006, 2007, New York, NY
The Ritz – Carlton Hotel, Marina Del Ray, CA, 2006
Beyond Decor Fine Arts Gallery, Palm Beach, FL 2006
The Ritz – Carlton Hotel, 2005, 2004, New York, NY
Comenos Fine Arts, 2003, Boston, Ma
Gasan Gallery, 2002, Seoul, S. Korea
Congro Gallery, 2002, Seoul, S. Korea
Casa Italiana Zerilli-Marimò, 1999, New York, NY
The Vault Gallery, Boston Private Bank & Trust Company, 1998, Boston, MA
Al-Funoon Gallery, Dhahiat Abdulla Al-Salem, 1997, Kuwait
National US—Arab Chamber of Commerce, 1997, Washington, DC
The Union League Club, 1996, New York, NY
La Voile Rouge, 1994, Miami Beach, FL
Gainsborough's House, 1993, Sudbury, UK
Rougham Estate, 1993, Bury St., Edmunds, UK
The Henry Morrison Flagler Museum, 1993, Palm Beach, FL
Ergane Gallery, 1992, New York, NY
Roy Miles Gallery, 1992, London, UK
Rochan Gallery, 1991, Belgravia, London, UK
Third Avenue Gallery, 1991, Denver, CO
Nicole C. Gallery, 1990, Boston, MA
Sandra Higgins Fine Arts, 1990, London, UK
The World Trade Center, 1990, Boston, MA
The Ritz-Carlton Hotel, 1990, Boston, MA
Gallery on the Square, 1989, San Francisco, CA
The Oliver Building, 1989, Boston, MA
SELECTED GROUP EXHIBITION
M Fine Arts Galerie, Boston, MA, 2017, 2018, 2019
Haven Palm Beach, Palm Beach, 2020, 2021, 2022
St. Botolph Club Biennial Member Show, 2009
Beyond Decor Fine Arts Gallery, "Timeless Icons", 2006, Palm Beach, FL
Mara-a-Lago, 2006, Palm Beach
Nantucket Preservation Trust Showhouse, 2005, Nantucket, MA
Beyond Decor Fine Arts Gallery, 2006, Palm Beach, FL
The National Arts Club, 2003, The Twelfth Annual Roundtable Exhibition, New York, NY
Intrepid SEA • AIR • SPACE Museum, 1999, New York, NY
The Society for The Formative Arts, 14th International Biennial, 1996, Kuwait
Sherri French Gallery, 1993, Palm Beach, FL
Ergane Gallery, 1993, New York, NY
International Contemporary Art Fair, 1990, London, UK
The World Trade Center, 1989, Boston, MA
Alfred J. Walker Fine Arts, 1988, Boston, MA