Diana Nicosia to Show New Encaustics at Opening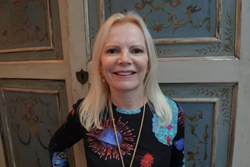 Boston, Massachusetts (PRWEB) August 16, 2016
Modern encaustics inspired by ancient Roman frescoes by Boston artist Diana Nicosia will be shown throughout September at M Fine Arts Galerie in Boston. Entitled "Surfaces Revisited," the show of encaustics is reminiscent of the ancient frescoes at the home of Livia Drusilla, the wife of Emperor Augustus, the first emperor of Rome.
M Fine Arts Galerie is located at 61 Thayer St, Boston, MA 02118.
Modern encaustics are trending in the art world. "My series—Roman Paradise: The Garden—is a monochromatic palette using white gold and yellow gold," said Nicosia, who has produced encaustics since 2000. "Italian inspired, my encaustics have a technical connection to graffiti, which in Italian means 'to scratch or scribble.'"
The encaustic is a mixture of wax suspended in oil paint. Nicosia wields a palette knife to layer and then scratch the encaustic. It is a physically demanding process involving many layers of paint. The modern frescos are painted on single or multiple panels such as diptychs, or to comprise a folding screen.
A Euro-American artist, Nicosia spent her formative years in Boston where she attended Mass College of Art, Colby Sawyer College and Wheaton College. Upon completion of advanced work in a private atelier, the Boston School of Realism, Nicosia moved to Siren Land and then to Tuscany.
Nicosia maintains studios in Boston and Gulf Stream, Florida, and frequently visits Italy. As an artist, she has realized significant distinction on the international scene, her work having been exhibited in New York City, Los Angeles, San Francisco, Palm Beach, Washington, D.C., London, Sao Paulo, Kuwait City and Rome.
Nicosia maintains a rigorous schedule, painting for long stretches each day. She is often quoted as saying, "Painting is an inner necessity, giving strength to my soul and a meaning to my spiritual life. I hope my paintings give pleasure to the viewer."
An artist and also an author, Nicosia released her first art mystery in 2016. "The Caravaggio Contract" is based on the real-life mystery of the missing paintings of the great Baroque artist, Caravaggio, who actually lived and painted in Italy near Nicosia's studio. The book is available on Amazon.com.