Meet Local Artist Diana Nicosia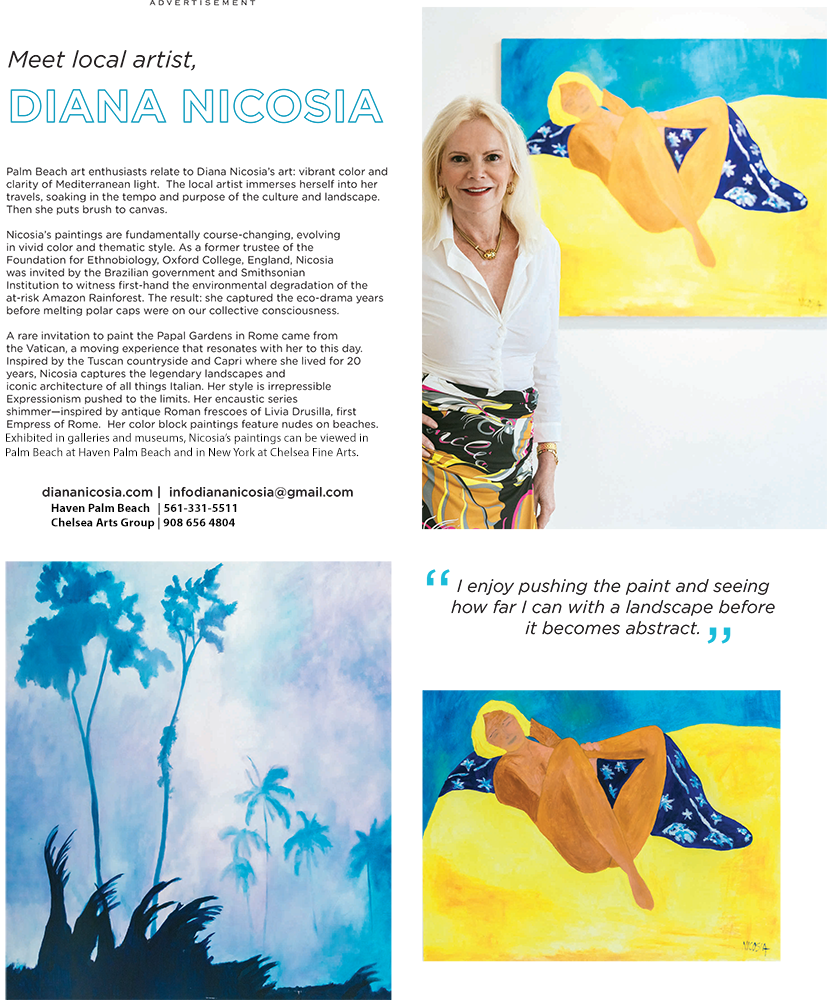 Palm Beach art enthusiasts relate to Diana Nicosia's art: vibrant color and clarity of Mediterranean light. The local artist immerses herself into her travels, soaking in the tempo and purpose of the culture and landscape. Then she puts brush to canvas.
Nicosia's paintings are fundamentally course-changing, evolving in vivid color and thematic style. As a former trustee of the Foundation for Ethnobiology, Oxford College, England, Nicosia was invited by the Brazilian government and Smithsonian Institution to witness first-hand the environmental degradation of the at-risk Amazon Rainforest. The result: she captured the eco-drama years before melting polar caps were on our collective consciousness.
A rare invitation to paint the Papal Gardens in Rome came from the Vatican, a moving experience that resonates with her to this day. Inspired by the Tuscan countryside and Capri where she lived for 20 years, Nicosia captures the legendary landscapes and iconic architecture of all things Italian. Her style is irrepressible Expressionism pushed to the limits. Her encaustic series shimmer—inspired by antique Roman frescoes of Livia Drusilla, first Empress of Rome. Her color block paintings feature nudes on beaches.
Exhibited in galleries and museums, Nicosia's paintings can be viewed in Palm Beach at Haven Palm Beach and in New York at Chelsea Fine Arts.