OPENING NIGHT SHOW DRAWS SERIOUS ART PATRONS TO M GALERIE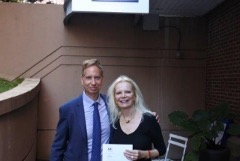 SoWa Boston promotes itself as all fresh, all local, all good. It was most certainly good at the art opening held at M Fine Arts Galerie at 61 Thayer St. with the opening reception for Diana Nicosia's encaustic paintings in September. Serious art patrons attended the "Surfaces Revisited" featuring Diana Nicosia and Yves Crenn's work.
Long known locally as the city's leading art community, SoWa was ranked as #2 on USA Today's 10-Best Art Districts in the country. The neighborhood features critically acclaimed galleries, SoWa First Fridays, the SoWa Art Walk, and SoWa Open Studios.
Patrons and guests lingered over Diana Nicosia's series "Roman Paradise: The Garden" reminiscent of the ancient frescoes at the home of Livia Drusilla, the wife of Emperor Augustus, the first emperor of Rome.
Encaustic is a waxed-based painting medium characterized by luminous color and a lush surface enjoying a revival today, according to Joanne Mattera, author of The Art of Encaustic Painting.
Nicosia's art will be on display at M Galerie throughout September. Visit her website at www.diananicosia.com.